Report — 26 February 2016
St David's Day Tournament
With just eight players, tonight's tournament was played as a round-robin.
The Welsh team was scrambled together, with Martin called up to even the numbers, his eligibility being solely that he had been to Wales.
As it was the Non-Welsh filled the top three positions after handicaps were applied, so comfortably won the day.
The individual prize provided an upset again, a common occurrence in this handicap-based tournament.
Daniel scored a win over Adam and claimed a draw in against Andrew in a clock-affected game to put him over the line after handicaps were applied.
Joshua managed to win all games, but even a picket fence was not enough to catch Daniel.
Pictures of this year's winner and some past winners are below.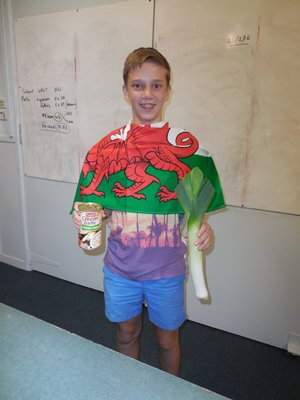 2016 winner — Daniel Sheldon
(draped in the Welsh flag)
Joshua Morris
2015 winner

John Ryland
2012 winner

Nathan Shaw
2011 winner

Mark Taylor
2010 winner
St David's Day tournament standings
All players played 7 games
No.

NAME

POINTS

plus
Handicap

TOTAL

1

Daniel Sheldon

N

1.5

5.8

7.3

2

Joshua Morris

N

7.0

0.0

7.0

3

Adam Morris

N

2.0

5.0

7.0

4

Martin Laizans

W

4.0

2.6

6.6

5

Brian Willcock

W

1.0

5.0

6.0

6

Tony Howes

W

4.0

1.4

5.4

7

Andrew Robinson

W

3.5

1.8

5.3

8

Tony Morris

N

5.0

0.2

5.2
St David's Day tournament 2016 results in detail
(W=Welsh; N=Non-Welsh)
St David's Day — Teams standings
All players played 7 games
| | | | | | |
| --- | --- | --- | --- | --- | --- |
| No. | THE WELSH | | POINTS | Handicap | TOTAL |
| 4 | Martin Laizans | W | 4.0 | 2.6 | 6.6 |
| 5 | Brian Willcock | W | 1.0 | 5.0 | 6.0 |
| 6 | Tony Howes | W | 4.0 | 1.4 | 5.4 |
| 7 | Andrew Robinson | W | 3.5 | 1.8 | 5.3 |
| | WELSH TOTAL: | | 12.5 | 10.8 | 23.3 |
| | | | | | |
| --- | --- | --- | --- | --- | --- |
| No. | NON-WELSH | | POINTS | Handicap | TOTAL |
| 1 | Daniel Sheldon | N | 1.5 | 5.8 | 7.3 |
| 2 | Joshua Morris | N | 7.0 | 0.0 | 7.0 |
| 3 | Adam Morris | N | 2.0 | 5.0 | 7.0 |
| 8 | Tony Morris | N | 5.0 | 0.2 | 5.2 |
| | BARBARIAN TOTAL: | | 15.5 | 11.0 | 26.5 |