Report – 11 December 2015
Marcus Porter Memorial
The second and final night for this tournament saw an extra seven players participate who were not able to make it to the tournament last Friday, bringing the total number of entries to 47.
Five players were unable to make it to the second night, but to their credit these absences were advised in advance, and so the start of tonight's play was not unnecessarily delayed.
Again the rounds were played to schedule, and all players were suitably focussed on getting to their board and commencing their games on time.
Round Five saw draws on boards two and three, while Moulthun continued on his winning ways on Board One to open up a one point lead.
There were four upsets deemed worthy of the prize of a packet of tictacs in this round, the beneficiaries being David Gray, Hughston Parle, Dashiell Young and Cameron Lake who all overcame opponents rated 180 points or more above them. Probably the pick of these was the win by promising junior Dashiell Young who bridged a difference of more than 600 rating points to win his game.
Moulthun again won in Round Six against Jacob who adventurously stuck to the Grob even against this toughest of opponents. Upsets on Boards Two and Three moved Moulthun from clear favourite to near certainty, as possible challengers fell by the wayside. The victors in these two games were Michael Ostapenko and David Gray who achieved his second consecutive upset. Other notable performances were from Tyson Barker and Matthew Lake who overcame higher rated opponents, and Angus Porter who nabbed an unexpected draw to add to his win in the previous round.
Round Seven results went mainly by the form guide, with the exception being Hughston Parle win against Andrew Mather, which adding to Hughston's fine record in this tournament. By this stage the Grob was increasing in popularity with ten players venturing to play the Grob and another three playing the Reverse Grob.
Round Eight results also went mainly to form with a few expections. Moulthun finished with a perfect score of 8 out of 8 to become the inaugural Marcus Porter Memorial tournament winner. His opponent Hughston Parle pushed Moulthun as hard as he was pushed in any other game in this tournament, but Moulthun was able to nurse his small advantage through for the win. Jacob Edwards only required half a point to claim the Grob prize outright, but lost to an in-form Michael Ostapenko. However Jacob was able to win this prize on count-back from Tom Maguire who was well compensated for the late decision to allow the Reverse Grob by being awarded the Best-dressed Prize.
Following the conclusion of the final round, there was an awards ceremony facilitated by Shane Mather. Shane thanked everyone who showed up tonight, and applauded the conduct of all of the participants which contributed to a successful smoothly run tournament. Prizes in the form of beanies (a Marcus trademark) were then awarded to Jacob Edwards for the Grob prize and to Tom Maguire who donned a uniform Marcus would be proud of including a beanie, pyjama bottoms and socks.
Moulthun accepted the prize for winning the tournament, a handsome trophy supplied by Marcus' parents. Moulthun gave an eloquent speech, thanking the parents of both Marcus and Andrew Mather for their contributions to making this event happen. Moulthun added that playing in this tournament had given him a new found respect for Marcus' chess ability, because of the trouble he had in this tournament trying to win games in which he had played the Grob!
Finally the evening was rounded of by Marcus' dad, Stephen Porter who expressed his gratitude to everyone for coming together last Friday and tonight to remember Marcus. Marcus always loved his chess, and having this tournament tonight, and then continued each year into the future, will be a way to bring together all of the people who loved and admired Marcus.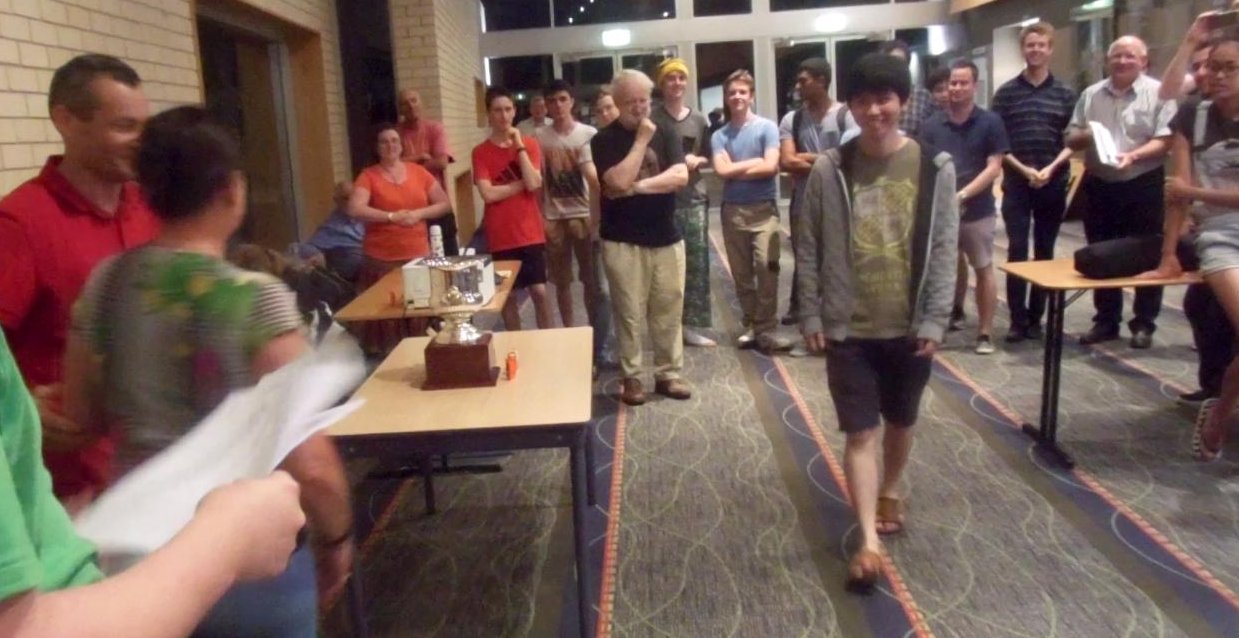 Final Standings
Place Name                    Loc  Score M-Buch. Buch. Progr.
  1   Ly, Moulthun            2488 8        29.5  39.5   36.0
 2-4  Gray, David Peter H     1484 6        26.5  35.0   27.0
      Ostapenko, Michael      1662 6        25.0  35.5   27.0
      Maguire, Tom            2045 6        25.0  32.5   23.0
 5-7  Fitzpatrick, Andrew     1976 5.5      31.5  42.5   27.0
      D'Arcy, Michael         1811 5.5      28.0  40.0   26.0
      Parle, Hughston         1640 5.5      28.0  39.5   25.5
8-12  Mather, Andrew          1812 5        30.5  40.5   26.5
      Edwards, Jacob A        2019 5        29.0  40.5   26.5
      Morris, Joshua          1509 5        25.0  33.5   23.0
      Therakam, Clint         1685 5        24.5  33.0   24.0
      Kay, James              1589 5        22.5  28.0   14.0
13-15 Wang, Jason             1451 4.5      29.0  38.5   22.5
      Tsai, Charles           1821 4.5      25.5  34.0   19.5
      Young, Dashiell         1057 4.5      24.5  32.5   19.5
16-22 Walker, Tyson           1733 4        29.5  39.5   25.5
      Laizans, Martin         1397 4        25.5  33.5   20.0
      Stokes, Mark C          1535 4        24.5  30.5   18.0
      Turner, Justin          1433 4        24.0  32.0   21.0
      Sands, 

Gary

             1356 4        23.5  33.0   19.0
      De Vere, Cameron        1692 4        23.0  32.5   20.0
      Young, Phil             969  4        23.0  31.0   16.0
23-28 Barker, Tyson           1436 3.5      24.5  31.0   17.5
      Cervenjak, Mark         1391 3.5      23.5  32.0   16.5
      Willcock, Brian         1193 3.5      22.0  30.0   12.5
      Kay, Stephanie          415  3.5      22.0  28.0   10.0
      

Lake, David                  3.5      20.0  26.5   11.5
      Kidd, Alexander              3.5      16.0  21.5    9.0
29-33 Laczko, Anastasia       953  3        23.5  30.0   10.0
      

Morris, Tony            1392 3        22.5  30.5   14.0
      

Lake

, Matthew                3        22.5  29.5   14.0
      Treston, Liam                3        19.0  24.0   11.0
      

Treston, Dylan               3        16.0  21.5    9.0
34-43 Holt, Stuart            1657 2.5      24.5  34.5   16.0
      Tan, Joseph                  2.5      24.5  33.5   17.0
      

Curtain, Joseph         1278 2.5      24.5  32.5   15.0
      Moss, Jasper            815  2.5      23.0  29.0   14.0
      McConnell, Anneliese    653  2.5      22.5  29.0    7.0
      Davies, Andrew Williams 1054 2.5      21.5  28.5   13.0
      Dale, Liam                   2.5      20.0  28.5   10.5
      

Lake

, Cameron                2.5      19.5  26.0    9.5
      Condon, Harry                2.5      18.5  26.0   11.0
      Porter, Angus                2.5      16.0  20.0    9.5
44-46 Morris, Adam Isaac      571  2        19.5  27.5    9.0
      McSwan, Isaac                2        19.0  24.0    9.0
      Healy, Tavish                2        18.5  23.0    7.0
 47   McSwan, Olivia               0        20.5  26.5    0.0
Final Results
No Name                    Total  1    2    3    4    5    6    7    8  
1  Ly, Moulthun            8     20:W 34:W 21:W  6:W  5:W  9:W  3:W  7:W
2  Gray, David Peter H     6     31:W  8:L 22:W 36:W 11:W 16:W  5:L 15:W
3  Ostapenko, Michael      6     40:W 35:L 25:W 24:W 19:W  8:W  1:L  9:W
4  Maguire, Tom            6     36:W 10:L 13:L 44:W 24:W 19:W 16:W  5:W
5  Fitzpatrick, Andrew     5.5    0:D 30:W  7:W 13:W  1:L  6:W  2:W  4:L
6  D'Arcy, Michael         5.5   22:W 17:W 10:W  1:L  8:D  5:L 13:W 16:W
7  Parle, Hughston         5.5   28:W  9:D  5:L 25:W 14:W 13:W  8:W  1:L
8  Mather, Andrew          5     39:W  2:W 11:W 16:D  6:D  3:L  7:L 18:W
9  Edwards, Jacob A        5     25:W  7:D 14:W 21:W 16:D  1:L 11:W  3:L
10 Morris, Joshua          5     41:W  4:W  6:L 20:L 30:W 17:W 15:L 21:W
11 Therakam, Clint         5     42:W 32:W  8:L 17:W  2:L 20:W  9:L 19:W
12 Kay, James              5      0:   0:   0:   0:  29:D 41:W 20:W 17:W
13 Wang, Jason             4.5   27:W 14:D  4:W  5:L 20:W  7:L  6:L 23:W
14 Tsai, Charles           4.5   15:W 13:D  9:L 35:W  7:L 23:L 24:W 30:W
15 Young, Dashiell         4.5   14:L 41:W 34:L 46:W 21:W 18:D 10:W  2:L
16 Walker, Tyson           4     37:W 19:W 35:W  8:D  9:D  2:L  4:L  6:L
17 Laizans, Martin         4     43:W  6:L 37:W 11:L 22:W 10:L 23:W 12:L
18 Stokes, Mark C          4      0:D  0:D  0:D  0:L 38:W 15:D 22:W  8:L
19 Turner, Justin          4     45:W 16:L 44:W 34:W  3:L  4:L 31:W 11:L
20 Sands, 

Gary

             4      1:L 40:W 31:W 10:W 13:L 11:L 12:L 29:W
21 De Vere, Cameron        4     44:W 24:W  1:L  9:L 15:L 29:W 30:W 10:L
22 Young, Phil             4      6:L 27:W  2:L 32:W 17:L 45:W 18:L 31:W
23 Barker, Tyson           3.5    0:D  0:D  0:D  0:L 26:W 14:W 17:L 13:L
24 Cervenjak, Mark         3.5   33:W 21:L 42:W  3:L  4:L 27:D 14:L 43:W
25 Willcock, Brian         3.5    9:L 28:W  3:L  7:L 41:L 46:W 27:W 26:D
26 Kay, Stephanie          3.5    0:   0:   0:   0:  23:L 43:D 45:W 25:D
27 

Lake

, David             3.5   13:L 22:L 40:L 28:W 44:W 24:D 25:L 33:W
28 Kidd, Alexander         3.5    7:L 25:L 43:D 27:L 33:L 47:W 38:W 42:W
29 Laczko, Anastasia       3      0:   0:   0:   0:  12:D 21:L 41:W 20:L
30 Morris, Tony            3     35:L  5:L 41:W 42:W 10:L 40:W 21:L 14:L
31 

Lake

, Matthew           3      2:L 39:W 20:L 37:L 42:W 38:W 19:L 22:L
32 Treston, Liam           3      0:W 11:L 36:L 22:L 40:L 42:L 47:W 44:W
33 Treston, Dylan          3     24:L 42:L 46:L 45:L 28:W 44:W 40:W 27:L
34 Holt, Stuart            2.5   46:W  1:L 15:W 19:L  0:D  0:L  0:L  0:L
35 Tan, Joseph             2.5   30:W  3:W 16:L 14:L  0:D  0:L  0:L  0:L
36 Curtain, Joseph         2.5    4:L 46:W 32:W  2:L  0:D  0:L  0:L  0:L
37 Moss, Jasper            2.5   16:L 45:W 17:L 31:W  0:D  0:L  0:L  0:L
38 McConnell, Anneliese    2.5    0:   0:   0:   0:  18:L 31:L 28:L 45:W
39 Davies, Andrew Williams 2.5    8:L 31:L 45:W 40:W  0:D  0:L  0:L  0:L
40 Dale, Liam              2.5    3:L 20:L 27:W 39:L 32:W 30:L 33:L 41:D
41 

Lake

, Cameron           2.5   10:L 15:L 30:L 43:W 25:W 12:L 29:L 40:D
42 Condon, Harry           2.5   11:L 33:W 24:L 30:L 31:L 32:W 43:D 28:L
43 Porter, Angus           2.5   17:L 44:L 28:D 41:L 47:W 26:D 42:D 24:L
44 Morris, Adam Isaac      2     21:L 43:W 19:L  4:L 27:L 33:L 46:W 32:L
45 McSwan, Isaac           2     19:L 37:L 39:L 33:W 46:W 22:L 26:L 38:L
46 Healy, Tavish           2     34:L 36:L 33:W 15:L 45:L 25:L 44:L 47:W
47 McSwan, Olivia          0      0:   0:   0:   0:  43:L 28:L 32:L 46:L
Grob Prize
| | | | | | | | | | | | |
| --- | --- | --- | --- | --- | --- | --- | --- | --- | --- | --- | --- |
| Player | Rating | 1 | 2 | 3 | 4 | 5 | 6 | 7 | 8 | Total | Countback |
| Edwards, Jacob | 2019 | 1 | 0.5 | 1 | 1 | 0.5 | 0 | 1 | 0 | 5.0 | 8 |
| Maguire, Tom | 2045 | | 0 | 0 | 1 | 1 | 1 | 1 | 1 | 5.0 | 7 |
| Wang, Jason | 1451 | 1 | | 1 | | 1 | 0 | 0 | 1 | 4.0 | 6 |
| Ostapenko, Michael | 1662 | | 0 | | 1 | 1 | 1 | 0 | 1 | 4.0 | 6 |
| Ly, Moulthun | 2488 | 1 | | 1 | | 1 | | 1 | | 4.0 | 4 |
| Morris, Joshua | 1509 | 1 | | | | 1 | | 0 | 1 | 3.0 | 4 |
| Stokes, Mark | 1535 | | | | | 1 | 0.5 | 1 | 0 | 2.5 | 4 |
| Mather, Andrew | 1812 | | | 1 | | 0.5 | | 0 | 1 | 2.5 | 4 |
| Porter, Angus | | | 0 | | 0 | 1 | 0.5 | 0.5 | | 2.0 | 5 |
| D'Arcy, Michael | 1811 | | 1 | | 0 | | 0 | | 1 | 2.0 | 4 |
| Holt, Stuart | 1657 | 1 | | | | | | | | 1.0 | 1 |
| McSwan, Isaac | | 0 | | 0 | | 1 | 0 | 0 | 0 | 1.0 | 6 |
| Turner, Justin | 1433 | | | | | 0 | 0 | 1 | | 1.0 | 3 |
| Tsai, Charles | 1821 | | 0.5 | | | | 0.5 | | | 1.0 | 2 |
| Barker, Tyson | 1436 | | | | | 1 | | 0 | | 1.0 | 2 |
| Morris, Adam | 571 | | | 0 | | | | 1 | | 1.0 | 2 |
| Parle, Hughston | 1640 | | | | 1 | | | | | 1.0 | 1 |
| Curtain, Joseph | 1278 | | | 1 | | | | | | 1.0 | 1 |
| Davies, Andrew | 1054 | | | 1 | | | | | | 1.0 | 1 |
| Healy, Tavish | | | | | | | | | 1 | 1.0 | 1 |
| Morris, Tony | 1392 | | | | | 0 | | | | 0.0 | 1 |
Yellow square = Played the Grob (1. g4)
Grey square = Played the Reverse Grob (1. …g5)