Prize Night Tournament - Handicap Lightning
Prize Night
The night commenced with the presentation of prizes to tournament and trophy winner for 2010. There was wild applause when Russell Lyons' win in the Maiden Trophy was announced.
Handicap Lightning Tournament
The Handicap Lightning tournament started tonight with a preliminary round in 2 groups. Eleven players entered. The groups were drawn at random. The top two in each group progressed to the semi-finals.
The handicap system is based on a system of handicaps awarded on playing strength. The handicaps are determined by rating, with 2000+ players having a zero handicap ('playing off scratch'), 1900-1999 having a half point handicap, 1800-1899 1 point etc, down to a player under 799 has a 6.5 point handicap. Before each game the difference between the 2 players' handicaps is calculated, with the lower rated player having 5 minutes in the game to make all moves. The higher rated player is allocated 5 minutes minus the handicap difference (but must have at least one minute). For example, if the difference is 1.5 then the higher rated player will receive 3.5 minutes to make their moves.
Jim Petrie attended the prize ceremony but was unable to stay for the tournament.
Group stage
Results in the group stage were as follows.
| | | |
| --- | --- | --- |
| Group A | POINTS | Handicap |
| Debbie Jenkins | 4 | 1.0 |
| Tony Howes | 4 | 0.5 |
| Greg Colwell | 3 | 2.5 |
| Russell Lyons | 2 | 1.5 |
| Peter Hiller | 2 | 1.5 |
| John Ryland | 0 | 2.5 |
Debbie was a reluctant entrant but topped the group beating Tony and only losing to Greg.
| | | |
| --- | --- | --- |
| Group B | POINTS | Handicap |
| Kieran Lyons | 4 | 0.0 |
| Nathan Shaw | 3 | 1.0 |
| Andrew Robinson | 2 | 0.5 |
| James Hiller | 1 | 6.5 |
| Ray Adams | 0 | 1.0 |
Kieran sailed through the group undefeated. Nathan beat Andrew in the crucial game when his opponent overlooked a check. James surprised Ray by winning on time as Ray found one minute not enough time when James had five. James was mistakenly given a handicap of 6.5 instead of 4.0 which gave him an advantage he has not previously had.
Semi-Finals
Debbie Jenkins - Nathan Shaw 1-0
Kieran Lyons - Tony Howes 1-0
Third Place Match
Nathan Shaw - Tony Howes 0-1
Final
Debbie Jenkins - Kieran Lyons 0-1
Kieran won on an illegal move.
CONSOLATION MATCHES
5-8 Classification
Semi-F Andrew Robinson - Russell Lyons 1-0
Semi-F Greg Colwell - James Hiller 0-1
5-6 Match Andrew Robinson - James Hiller 1-0
7-8 Match Greg Colwell - Russell Lyons 1-0
9-12 Classification
Semi-F Peter Hiller BYE
Semi-F Ray Adams - John Ryland 1-0
9-10 Match Peter Hiller - Ray Adams 0-1
11-12 Match John Ryland BYE
Further information:
Past winners of the Handicap Lightning tournament (with index to past tournaments)
Results of tonight's tournament in are presented here in detail.
After the tournament
Newcomer John Ryland played in his first competitive chess competition and performed admirably without managing a win, unaccustomed to playing with the clock.
Against Ray he seemed to have a win on time looming with a queen to rook advantage, until his king was unfortunately mated in the middle of the board by Ray's cunning positioning of pieces.
Afterwards John played James and scored his first win at the club.
Some photos from tonight's action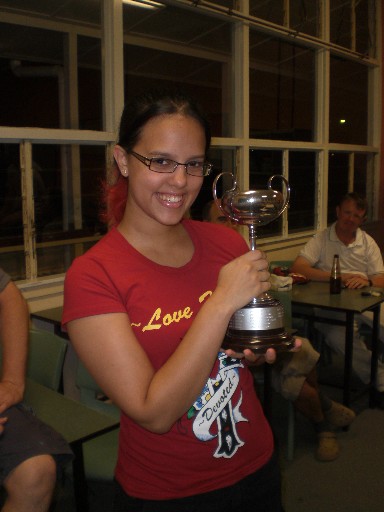 Kieran holding the Stuart Wilson Trophy she shared with Andrew last year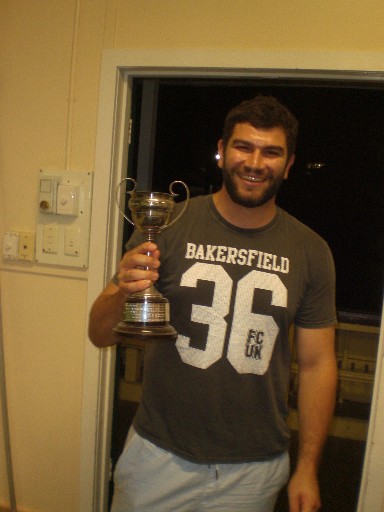 Nathan Shaw winner of the Lightning Tournament in 2010
Russell Lyons winner of the Maiden Trophy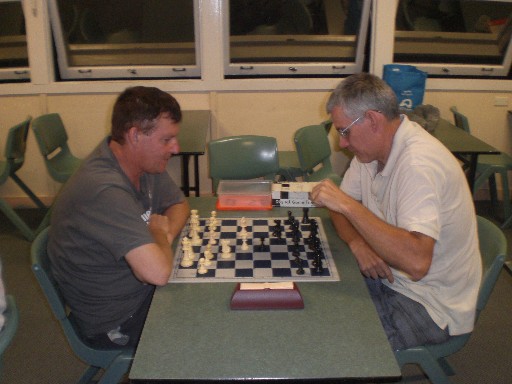 Russell Lyons vs Greg Colwell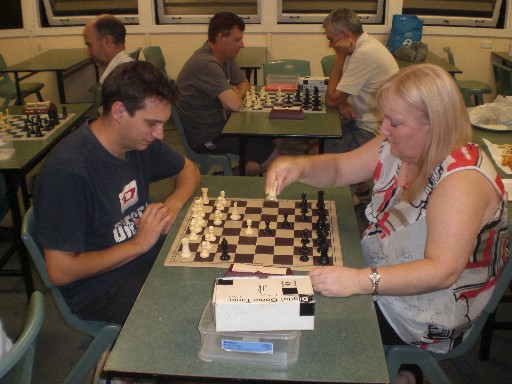 John Ryland vs Debbie Jenkins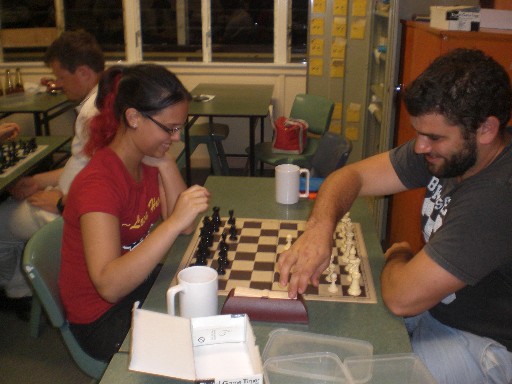 Kieran Lyons vs Nathan Shaw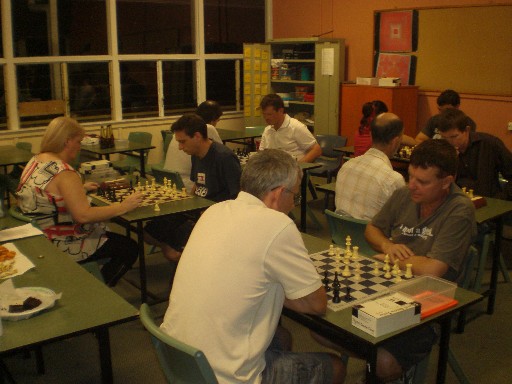 View of the playing area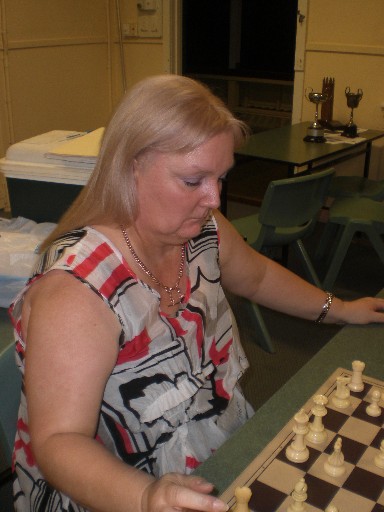 Debbie - playing Kieran in the final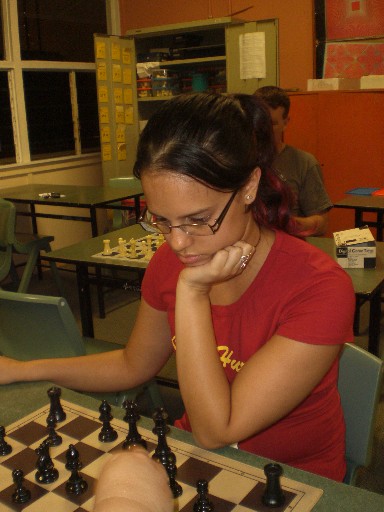 Kieran - winning the final against Debbie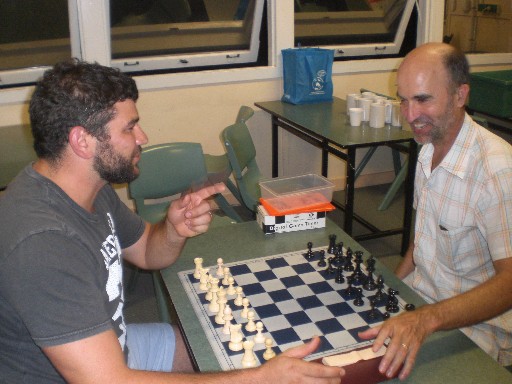 Nathan having a joke with Tony before their third place play-off match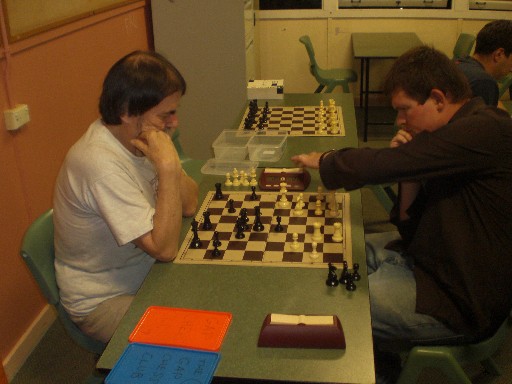 Ray Adams and Peter Hiller in the play-off for ninth place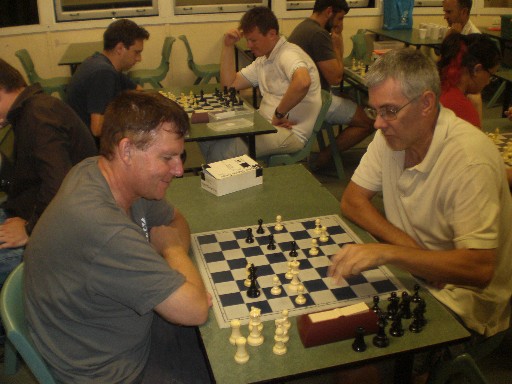 Greg beats Russell to win seventh place. John plays James in the background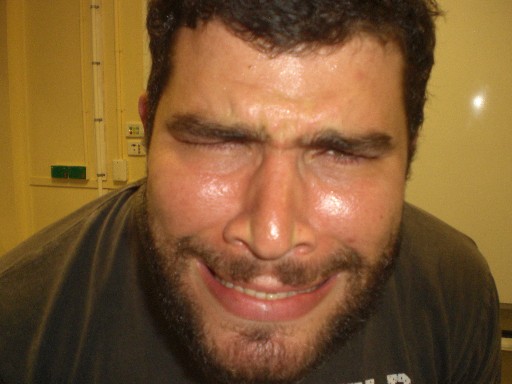 Nathan showing the pain of failing to realise a fourth consecutive third place finish in this tournament
Quote of the night
'We're the Bryan brothers, not the William sisters' - James upon arrival with Peter.
'There will be wild celebrations at the club when we get the new key to the toilet' - Ray on an issue of ongoing concern