Report – 2 July 2010
Stuart Wilson Trophy
Round 4 results:
Jonathan Wilson 1 James Hiller 0 (on forfeit)
Greg Colwell v Gary Sands – postponed
Joe Langford 0 Brian Willcock 1
Mitchell Langford 0 Nathan Shaw 1
Tony Howes v Ray Adams – postponed
Kieran Lyons 0 Andrew Robinson 1
Also:
Gary Sands 0 Ray Adams 1 (from Round 11)
Once again Mitchell was involved in the last game of the night to finish, pushing Nathan all the way after a very even game.
Kieran assessed that she made a mistake moving the knight rather than the f pawn at move 11 that gave away the initiative. Then an oversight as the endgame approached allowed her rook to be trapped at move 25, losing the exchange and ultimately the game.
Kieran Lyons vs Andrew Robinson
| | | | | | | |
| --- | --- | --- | --- | --- | --- | --- |
| | White | Black | | | White | Black |
| 1 | e4 | e5 | | 18 | Rxg4 | Qd7 |
| 2 | Nf3 | d6 | | 19 | Raa4 | d5 |
| 3 | Bc4 | h6 | | 20 | Rg6 | Rf6 |
| 4 | Nc3 | Nf6 | | 21 | Rag4 | Rxg6 |
| 5 | d3 | Be7 | | 22 | Rxg6 | Kb8 |
| 6 | 0-0 | 0-0 | | 23 | Na4 | Nf6 |
| 7 | h3 | Nc6 | | 24 | Nc5 | Qf7 |
| 8 | Nh2 | Na5 | | 25 | d4 | Kh7 |
| 9 | Nb3 | Nxb3 | | 26 | Rxf6 | Qxf6 |
| 10 | axb3 | Nh7 | | 27 | c3 | Rf8 |
| 11 | Ng4 | f5 | | 28 | Nd7 | Qf1+ |
| 12 | exf5 | Bxf5 | | 29 | Kh2 | Rf7 |
| 13 | f4 | exf4 | | 30 | Ne5 | Rf6 |
| 14 | Bxf4 | Bg5 | | 31 | Ng4 | Rg6 |
| 15 | Qf3 | c6 | | 32 | Qh4 | Qf4+ |
| 16 | Qg3 | Bxf4 | | 33 | Resigns | |
| 17 | Rxf4 | Bxg4 | | | | 0-1 |
Stuart Wilson Trophy 2010: Current standings
All players to play 13 games
| | | | |
| --- | --- | --- | --- |
| No. | NAME | POINTS | PLAYED |
| 1 | | 4 | 4 |
| 2 | | 4 | 4 |
| 3 | | 4 | 5 |
| 4 | | 3 | 3 |
| 5 | | 3 | 5 |
| 6 | | 2 | 5 |
| 7 | | 1.5 | 2 |
| 8 | | 1 | 2 |
| 9 | | 1 | 4 |
| 10 | | 0.5 | 4 |
| 11 | | 0 | 1 |
| 12 | | 0 | 1 |
| 13 | | 0 | 4 |
| 14 | | 0 | 4 |
Stuart Wilson Trophy 2010 results in detail
Some photos from tonight's action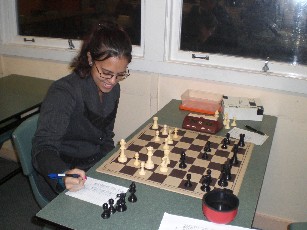 Kieran enjoying her game (after white's 17th move)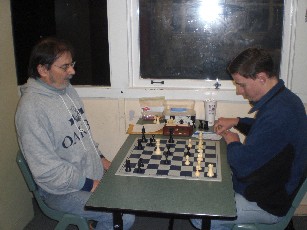 Gary considering his options against Ray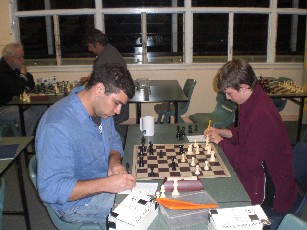 Nathan and Mitchell recording the last move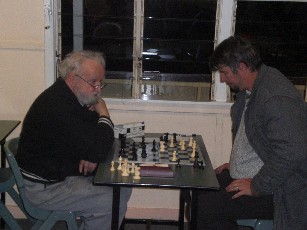 The flash that turned the game Brian's way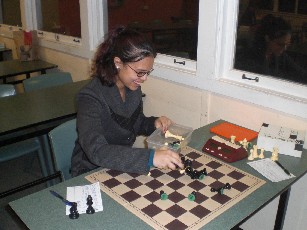 Kieran destroying the final position and thus removing the evidence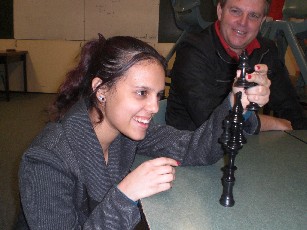 Kieran exploring a new angle in chess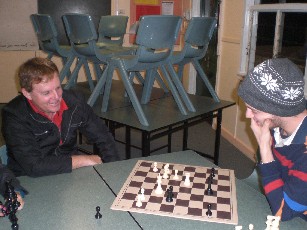 Jonathan considering his next move against Russell in a game he escaped defeat via stalemate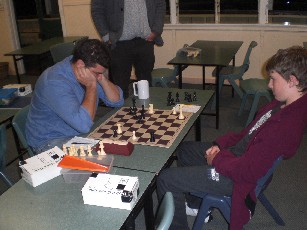 Final game to finish with Nathan wracking his brains for the breakthrough
Quote of the night
"The DOP flashed and then I won the game" – Brian