Report – 6 June 2008
Stuart Wilson Trophy
Results (Round 1):
Garvin Gray 0 Tony Howes 1
Andrew Robinson ½ Russell Lyons ½
Nathan Shaw 1 Kieran Lyons 0
Cameron De Vere 1 Brian Willcock 0
John Roper 0 Brendan Griffen 1
Greg Colwell 1 Josh Ford 0
Peter Ford 1 point BYE
The highlight of the first round was the upset victory over Flood cup champion by Kieran Lyons. Nathan had threatened to appeal to the vice-president for justice in the Swiss pairings, but luck favoured him in his game such to render this appeal unnecessary (as it ever was). Kieran said later that her loss was caused by moving a rook one square too far, and Nathan acknowledged that he was in a difficult position until this move.
Other games went according to expectations, including Andrew scoring his seventh draw in a row (five Flood Cup games, Samford last Friday, now this). Going into the endgame Russell was a pawn down, but Andrew allowed Russell to gain the opposition and had to defend a pawn in a bishop endgame with his king losing ground. With less than 30 seconds on the clock Andrew offered a draw which was accepted.
A minor 'incident' occurred in the De Vere–Willcock match. Brian was under the misapprehension that he had only 30 seconds left to make his moves and stopped recording his moves, when in fact he had 30 minutes left. Cameron notified the arbiter of the irregularity, but with some distraction in the playing hall. Brian soon after understood that he actually had 30 minutes left and must continue to record, however then a discussion ensued about how to rectify the score sheet which further disturbed the other players. Garvin requested that the arbiter put a stop to the conversation, but in such a tone that rendered any further direction from the arbiter unnecessary. Silence was resumed.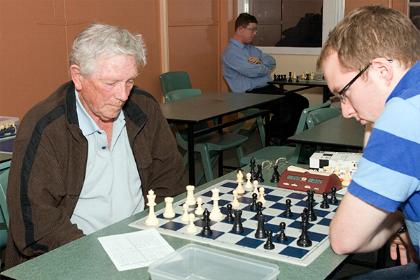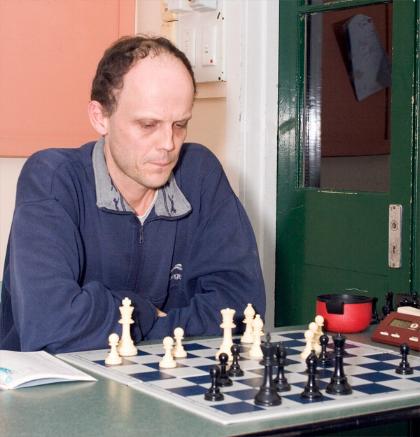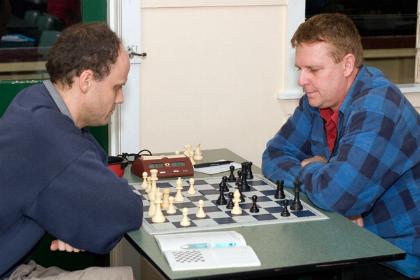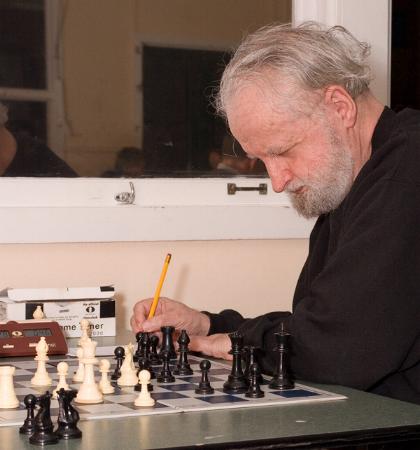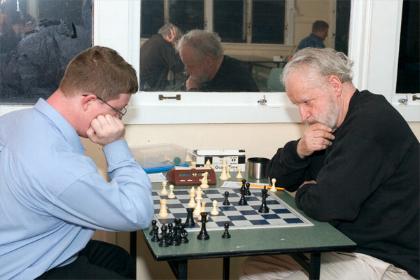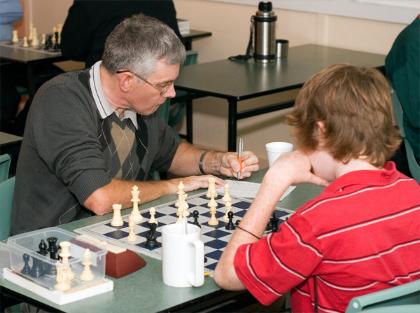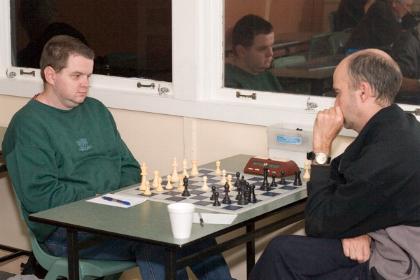 Stuart Wilson Trophy 2008: Current standings
All players to play 7 games
| | | | |
| --- | --- | --- | --- |
| No. | NAME | POINTS | PLAYED |
| 1 | Tony Howes | 1 | 1 |
| 2 | Brendan Griffen | 1 | 1 |
| 3 | Cameron De Vere | 1 | 1 |
| 4 | Greg Colwell | 1 | 1 |
| 5 | Nathan Shaw | 1 | 1 |
| 6 | Peter Ford | 1 | 1 |
| 7 | Andrew Robinson | 0.5 | 1 |
| 8 | Russell Lyons | 0.5 | 1 |
| 9 | Kieran Lyons | 0 | 1 |
| 10 | Garvin Gray | 0 | 1 |
| 11 | Brian Willcock | 0 | 1 |
| 12 | John Roper | 0 | 1 |
| 13 | Josh Ford | 0 | 1 |
Stuart Wilson Trophy Cup 2008 results in detail
Quote of the night
"You have a hopeless record in the first round…" – Cameron