Report –
15 December 2002
QUEENSLAND CLUBS TEAMS CHAMPIONSHIP
The Willcock Report
Sunday 15 December saw the inaugural Queensland team championship played at the venue of the Brisbane club. That seven adult teams of eight boards participated is a tribute to CAQ President Howard Duggan. That the same admittedly large room held both the adult and junior competitions without raised voices is a tribute to his wielding of his big stick. What might the Democrats even now achieve were he their Chief Whip!
The Gap's participation had been threatened by the CAQ's obduracy in refusing to accept George Flitcroft-Smith as a Gap member (George, who has played in all our tournaments this year, who first joined the club a century or two ago and who regularly sacrifices himself to accommodate Andrew's passion for late night transfer). However on the morning the CAQ saw sense and we played in both adult and junior competitions. Some of our stronger players were for various reasons unavailable but we fielded a full team that played above the expectations of many. In John Fortin we had a more than credible first board and the lesser lights pulled their weight. Special mention should be made of the heroes who met and refuted the Vietnamese Gambit over the board. This opening, flashy yet subtle, has little written on it – nothing in MCO, and has confounded stronger than Doug and Peter, yet our players drew on their years of experience and handled themselves manfully. It will come as no surprise then that while Redcliffe won the championship from the Gold Coast (the Coast won the juniors), The Gap won the Moral Victors title, awarded by The Gap team. As all true chess players know the moral victory is the one that REALLY counts, we may take pride in being the real champions! (For all doubting Thomases, ignore the faulty published results and look at the photo that shows us with the trophy).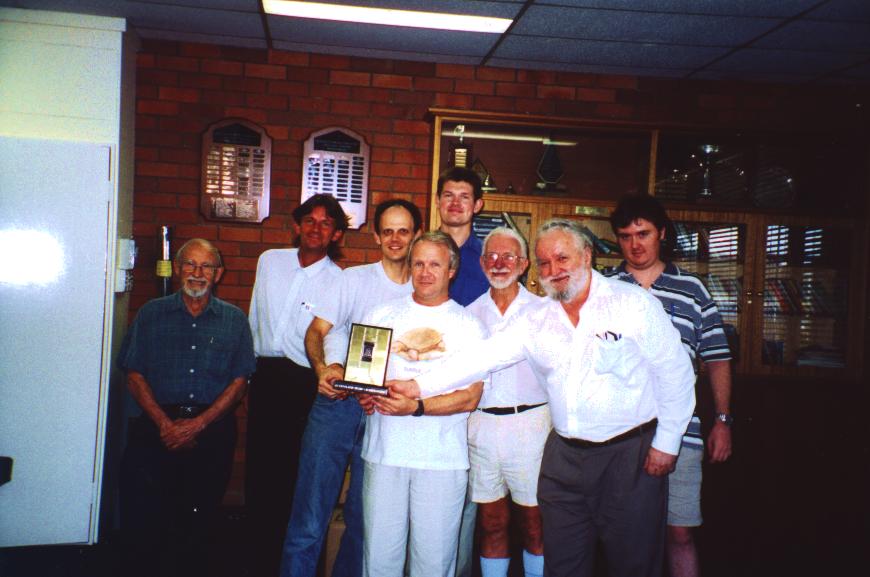 The Gap CC Results:
R1 v UQ W3 D2 L3 4-4 - Wins John Fortin, George, Brian, Draws Andrew, Doug
R2 v Brisbane L8 0-8 - All lost
R3 v Gold Coast W1 D2 L5 2-6 - Wins Brian, Draws John F, George
R4 v Bullwinkle W3 D1 L4 3.5-4.5 - Wins Peter, Stuart, John C, Draw Andrew
R5 v Logan W3 D3 L2 4.5-3.5 - Wins Doug, Stuart, John C - Draws top 3 boards
R6 Bye
R7 v Redcliffe W1 L7 - Win George
Juniors - Gold Coast came first from Redcliffe, reversing the senior result.
The regular scribe is now talking…
It should be noted that Brian believes he scored 3 wins from 6 on the day, and as the above scores are not totally reliable, he may have won a game that is credited above to Stuart.
John Fortin played some great chess considering he had not played in a tournament for several years since leaving Canada. Andrew Robinson pulled draws out of the mouth of victory twice, was outclassed twice, lost a close game to Kerry Corker, and pulled off a draw against Jonathan Humphries by forcing a rook to be taken, thus leaving a stalemate position, and rescuing a hopeless position. George had a good day and managed the club's only victory against Redcliffe. Brian played well enough to score 50% according to his own reckoning. Peter recovered after being flummaxed by the VN gambit in Round One (he claims not to remember anything from the game) to score a win against Bullwinkle. Doug, Stuart and John all scored the odd win and saved the club from embarrassment at times. So, all round a very good showing and well worthy of the Moral Victors' Trophy which we will be exhibiting at our club once Redcliffe CC returns it.